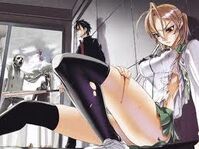 Welcome to H.O.T.D

Edit
Welcome to the High School Of The Dead Wiki. Created by Daisuke Satou & Shouji Satou
Attention hsotd.wikia.com community!
The official Highschool of the Dead Wiki has recently moved to a new home. I realize you have your own community here, but I think merging your community with ours would be beneficial to both of us. Please consider joining our community! You can find us here: New Highschool of the Dead Wiki--Turambar1 05:30, October 24, 2010 (UTC)
Welcome One and All,
Edit
High School of the Dead is anime/manga that follows the story of young adolescents as they try to survive in the zombie apocolypse.
Latest activity
Edit